We do not archive login credentials data for security reasons, it is not possible to view or resend it them.
In case you do not remember an account password or password to some other service, you need to set a new password.
Customer center
You can generate login credentials to your Customer account by requesting a new password through Request to send new password. In this application you need to fill out your specific e-mail address, which is registered with the user account.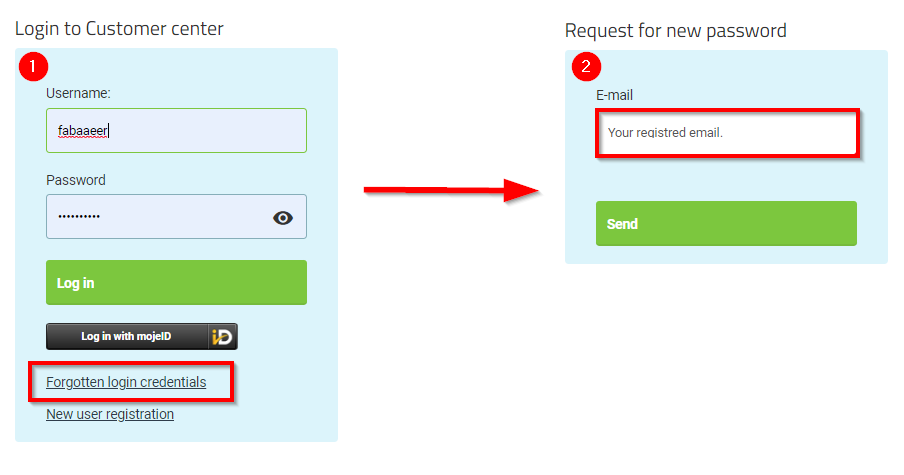 A confirmation link is first sent to the contact email via link which you can click to change the password. For safety reasons, the link is only valid for two hours.
If the specific email is for more than one account, we will send you an overview of all accounts with this address, then you will find a separate link for setting up a new password for each account.
If the contact email address is not available then you must first ask for a change of the contact email address via the verification form.
Please print the form and send the officially signed and verified signature of the account owner or company manager to our address, which is in the footer of the form.
---

Hosting (FTP)
To change the FTP password in the Customer Center you must go to Servers and hosting / FTP details, then click on Change Password in the FTP Accounts section.
---

Email account
To set up your new password for mailbox. You must go in the Customer Center and follow this path E-mails, then select settings at the right of the mailbox for which you want to change the password for and click the Change password.
---

Database (MySQL, MSSQL)


Change the MSSQL password by article Microsoft SQL (MSSQL) - Creation and management of database.
Database passwords are encrypted, so you can not simply view the currently set ones.
You can easily set up your new password at the Customer Center.
For a MySQL database, see the MySQL - Creation and management of database.
WARNING: After changing the password to the database, it is necessary to make a change in the configuration file or in the webpage code, in order to avoid a page break.